We're thankful to our Lord and Savior for an amazing past year: couples who've inspired us, lessons learned, and all the precious family and friends we've met.
We were so excited when we were told we've won the Two Bright Lights Editors' Choice Award for 2012!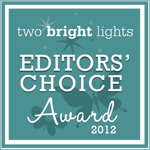 The award recognizes the top 5% of Two Bright Lights photographers to be published.
In 2011, we were so grateful to have every D Park Photography couple published in magazine and online wedding publications. It's been an amazing blessing to share the love stories of our couples to others.
Thank you to all of you for your support, friendship and prayers! We dedicate this to you.
With all our love,
The Parks